Summary
"If the single man plants himself indomitably on his instincts, and there abides, this huge world will come around to him," wrote Ralph Waldo Emerson. Learning to trust our originality in a virtual age when the impostor syndrome is epidemic, is critical to maintaining our integrity and the power of our natural voice. In this month's edition of The Seekers Forum, we look closely at the nature of originality, and why our 'first thoughts' and instinctive knowledge are our most dependable guides for navigating this brave new world of duplicity, disempowerment, and public pretense. How can we be fully ourselves despite widespread pressure to become someone else? That is our focus of this thought-provoking program.
---
SEEKERS SESSION LIVE TELECONFERENCE
---
GUIDED WRITING SESSIONS
---
GUEST INTERVIEW WITH NATALIE GOLDBERG
Listen to the Audio
About Natalie Goldberg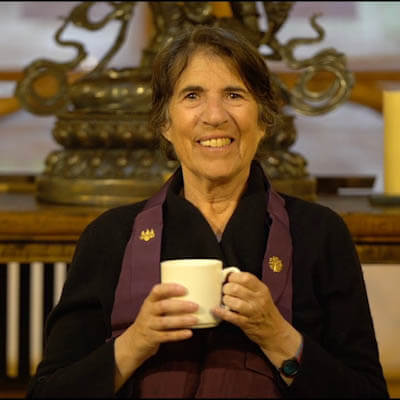 Natalie Goldberg is the author of fifteen books, including Writing Down the Bones (Shambhala, 1986), which has sold over one million copies, has been translated into fourteen languages, and started a revolution in the way we practice writing in this country.
She recently co-edited a collection of talks by revered zen teacher Katherine Thanas, The Truth of This Life (Shambhala, 2018). In her latest memoir Let the Whole Thundering World Come Home (Shambhala, 2018), she shares her experience with cancer grounded in her practice of zen and writing. Her other books include The Great Spring: Writing, Zen, and This Zigzag Life (Shambhala, 2016), the novel Banana Rose (Bantam, 1995), and the beloved Long Quiet Highway: Waking Up in America, a memoir about her zen teacher Katagiri Roshi.
Natalie is also a prolific painter. Her book Living Color: Painting, Writing, and the Bones of Seeing (Abrams, 2014), describes painting as her second art form. Top of My Lungs (Overlook Press, 2004) contains forty poems, twenty of her paintings in color, and an essay, "How Poetry Saved My Life."
For more than forty years Natalie has practiced zen and taught seminars in writing as a practice. People from around the world attend her life-changing workshops, and she has earned a reputation as a great teacher. The Oprah Winfrey Show sent a film crew to spend the day with Natalie for a segment on Spirituality that covered her writing, teaching, painting, and walking meditation. She lives in Northern New Mexico.
---
RECOMMENDED RESOURCE
Why Twyla Tharp wants us to 'shut up' and do what we love
Twyla Tharp is the greatest choreographer of our era. Her groundbreaking career in dance blended classical ballet with contemporary culture. Now, at age 78, Tharp is sharing her innovative approach to health and aging in a new book. Jeffrey Brown visited the American Ballet Theater recently to ask Tharp what she looks for in fellow dancers and why she is urging us all to "Keep It Moving."
---
VIDEO REFLECTION
Final thoughts and takeaways from this month's program